Learning how to sing seems like a pretty simple task. After all, all you need is your voice, some spare time, and a little bit of patience, right? Well, things are far from being that simple. Your voice box, also known as larynx, is essentially an instrument. The only problem is that you can't really see what you're doing with it, and there are no frets or any keys, or any kind of visual aid to help you out. You feel it and you sing.
And the process of learning how to sing is as complicated as it would be on any other instrument. Sure, you can sing without any training, we all know how to produce a tone. However, there are so many aspects of it that you'll need to cover if you want to become good at it. And this is exactly why we decided to come up with this brief guide and help you out if you want to teach yourself how to sing.
Important Tips for Learning How to Sing
Proper Posture is Half the Work
One of the essential things in this process is knowing how to position yourself. Although it might seem like an unimportant issue, with proper posture, you'll position each of your essential organs in the right place, and you'll use your body's full potential. Although it might seem like just a minor issue, many amateur singers immediately improved their voice quality after learning how to position themselves properly. Sometimes, this is exactly what differentiates between an enthusiast and a professional.
The proper singing posture has a simple name – the "tall posture." You should stand up straight with your feet firmly on the ground, just about your shoulder-width apart. At the same time, your hips, your feet, and your shoulders should be forming one straight line. Make sure that you're not slouching but standing straight with your back straight, but still in a natural relaxed position. In the end, you should take care that your chest is a little bit lifted, and your chin and neck standing straight. All this is easier to practice in front of a mirror.
Proper Breathing Techniques
Of course, proper breathing is one of the essential factors as well. For this, you'll need to learn the so-called "diaphragmic breath." And what this means is that you're "breathing from your stomach," and not from your chest. This way, you take full breaths and have more power to use for singing.
The easiest way to go about it is to stand in front of a mirror and watch your posture from the side. And when you breathe in, make sure that your stomach is moving when you breathe in and out, not your chest. To make sure, put your hands on your belly while you're breathing and keep the movement isolated to the stomach.
Projecting Your Voice
Even if you sing well – if no one can hear you well, then it makes no sense, doesn't it? This is why the projection is important. You'll also have to work on your voice's resonance, and it's easiest to do when you're just speaking normally. You can start with shorter phrases and then try and increase the volume. Firstly, just speak them out without singing and then try to add the melody to it. The easiest thing is to use a lyric from a song that you like.
Add Some Vibrato in There
Slight variations in pitch, or the vibrato, is what makes your signing unique. There are as many vibratos as there are singers since everyone does this in their own way. Although it's a vocal effect, it's something that you should work on early on, not as an absolute beginner, but definitely in your beginner stages.
You can start practicing them with one note, the one that you can sing comfortably at this point. Then play around with it, using faster or slower variations. You should also play around with the depth of the effect and see where it works the best for you. Of course, this is something that you'll perfect later on, but it's still fun to practice in the beginner stages as well.
Just Sing as Many Songs as You Can
One of the best ways to become a better musician and a singer is to learn as many songs as you can. This will not only broaden your horizons but will also give you all the possible ways for you to sharpen up your skills.
Learn Music Theory
Although you may not like it at first, learning music theory is essential, no matter the genres that you're into. After you learn the rules, you'll have to implement them in practice and use them as a tool for your expression.
More Advanced Skills for Intermediate Skill Levels
Distortion or "Rasp"
Just like vibrato, distortion in your voice is also what makes your singing unique. When your vocal cords vibrate in a different way, you create that "raspy" voice. It's also referred to as "growl" and some singers sing exclusively by growling, like extreme metal vocalists. But even if you're a pop singer or a blues singer, some rasp in there is always welcome.
Perfecting Your Pitch
Sorting out your pitch is of absolute importance if you want to become a great singer. However, staying in a perfect pitch is an almost impossible task and only the most skilled and experienced singers can do it well. Luckily for us, there are so many online tools to use, as well as cheap electronic instruments and electronic tuners that can serve as your reference.
What are Some Essential Tools That I Can Use for This?
Use the Advantages That the Internet Provides
At this day and age, we're pretty lucky that we have online tools and free YouTube video tutorials for almost anything that comes to mind. This is especially the case for music and singing, with an abundance of content that you can dig up pretty much anywhere, both paid and free options. This includes anything from simple tutorials telling you about basic techniques and principles for beginners, and up to apps that will help you train your ears and use music theory in practice. You're covered pretty much with every aspect of singing or playing almost any instrument.
Learn How to Use DAWs and Plugins
One of the best ways for you to improve your learning process is to use recording tools, like digital audio interfaces. These are essentially software replicas of entire studios, providing you with multi-track recording, effects, and other processing tools and plugins. Of course, in order to use them, you'll need to have a microphone and a good audio interface to do it all properly. A simple dynamic cardioid microphone like Shure SM58 and an audio interface like Focusrite Scarlett 2i2 will do the trick.
Online Courses
But nothing can replace a good learning program, even if it's an online course. One of the examples is Singorama (singorama.com) which can help you cover all the basics of singing, even if you're an absolute beginner. And nothing can compare with a well-thought-of course, as is the case with Singorama. Whether you're a beginner or an already experienced singer, there's an abundance of great lessons and vocal coaching programs on Singorama.
And, interestingly enough, it covers all the territories. Anything from beginner singing exercises, and up to music theory implemented in practice, including different lessons that will help you write your own original music. So we could say that Singorama is more than just a simple singing course, but rather a full-on online music school that offers an all-round package for a musician that's primarily based on vocals. And you can take a condensed "mini-course" to just sharpen up your skills, or anything up to a full package.
When it comes to the main products they offer, we have three basic packages. There's the Singorama 2.0 that focuses on vocals, Superior Songwriting that focuses on songwriting, and the so-called Platinum Inner Circle that provides you with 8 very innovative vocal lessons every month. When it comes to the vocals, the Singorama 2.0 program will get you covered in all the necessary territories as a beginner. In addition, it's also pretty affordable for the package that you get.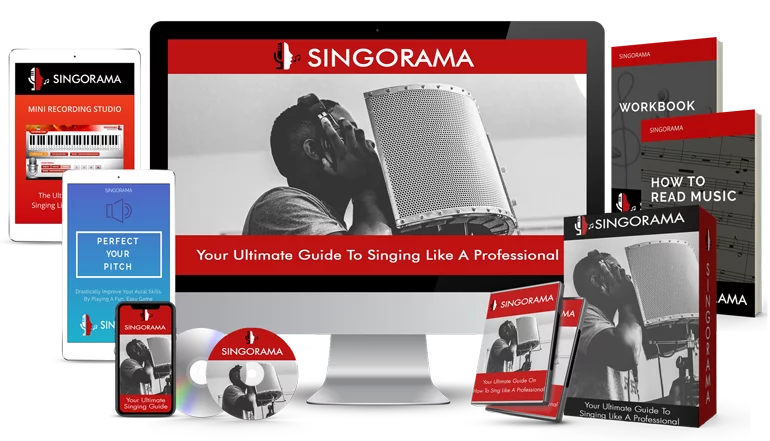 Conclusion
Although singing is accessible to pretty much anyone, it's still hard to become good at it. Sure, many might think that this is a pretty simple task since you don't have to bother with an instrument. However, what they don't realize is that your voice box is just like any instrument. You need to take care of it and learn how to use it to its full potential. And this requires a lot of practice and a lot of patience, just like any other instrument.