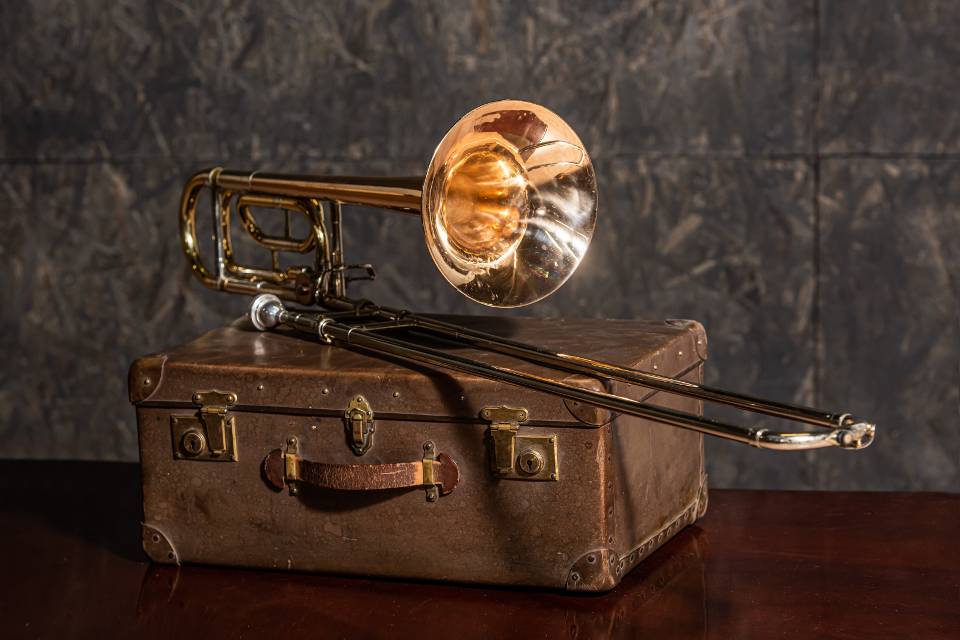 Brass instruments still keep a very special place in the world of music. Mostly associated with classical music, the trombone is one of the most unique instruments out there. Nonetheless, it's also not uncommon to see it used in plenty of other genres, sometimes even reggae or rock music.
Being a brass instrument, its sound is mainly produced through embouchure and its various techniques and vibrations within the instrument's air column. However, instead of using valves, as is the most common case with brass instruments, trombones have a telescoping slide mechanism for controlling its pitch. Although this makes it a bit challenging to perform, especially with getting your pitch in order, the instrument is one of the few ones that provide you with a true glissando.
There are a few common types of trombones, although the most common one, basically considered the standard, is the tenor trombone. But not to bother you too much with all the details about this fine instrument with a predominantly cylindrical bore, we've decided to cover the top 5 best trombone brands on the market. To put it simply, you just can't go wrong with any of these that we listed below.
Getzen
Getzen is one of the most famous and most prestigious brass instrument manufacturers in the world today. It all started back in the late 1930s in Elkhorn, Wisconsin when the company was founded by Anthony James Getzen. Initially starting out as an instrument repair shop, they began making instruments in 1946. Using extensive experience he had with some famous instrument manufacturers and with his own shop, Getzen brought the production and design of brass instruments to a whole new level.
When they kicked off their business in 1946, the company started by making their own trombones, something that they're very famous for even to this day. After a while, trumpets, cornet, as well as other brass instruments could be found in their arsenal.
Although the company changed ownership over the decades, Getzen once again found its way into the hands of the Getzen family in the early 1990s. Today, we have plenty of trombone series, all featuring professional-level prestigious models. Getzen's Custom was the most popular series, and their trombones these days are based on these same old principles that they used back in the old days. Some of the things that make them so special include nickel silver insides of the slide tubes, chrome plating, as well as barrel-shaped tubes. Needless to say, it's their impeccable quality that also makes them stand out.
Website: Getzen
Most Notable Getzen Trombones
3508R Custom Jazz
Check Price & Details on Amazon
The 3508R model is a small-bore jazz trombone that bears a CS7 mouthpiece. It comes with a .500-inch/.508-inch dual bore slide. Along with this, we have a lightweight nickel silver outside hand slide and players get the chance to customize the performance characteristics with three interchangeable lead pipes that come with the instrument. This is one of the most prestigious jazz trombones on the market.
3047AFR Custom Series
Check Price & Details on Amazon
This large-bore tenor trombone (.547 inches) is one of the most popular choices among classical music players. With its very comfortable professional-weight hand slides, the performance of this model is impeccable. And just like with the previously mentioned model, the 3047AFR trombone comes with three interchangeable lead pipes, a feature that allows you to customize your performance. The instrument also comes with its amazing axial flow valves.
---
Vincent Bach
Another US-based brass instrument company, the Vincent Bach Corporation began its operation back in 1918 when it was formed by Vincent Schrotenbach. Over a century old, the brand is currently a subsidiary of Conn-Selmer, a larger American-based company that specializes in orchestral and marching band instruments.
Going back to the old days, Vincent used his extensive knowledge and experience, which he gained while playing trumpet and cornet, to start making mouthpieces for brass instruments. It al started with a simple foot-operated lathe and him making brass instrument mouthpieces. The rise of his own business gave him an opportunity to start building trumpets and cornets under the Stradivarius brand. One of his biggest achievements was the development of the large bore C Trumpet, which became a standard in American symphonic orchestras.
Looking at Vincent Bach trombones, there has been a lot of exciting stuff since the company started making them in the late 1920s. Even to this day, each and every one of the company's trombones is hand-crafted. With their amazing quality, they also remain one of the most sought-after trombones on the market.
Website: BachBrass
Most Notable Vincent Bach Trombones
42AF Stradivarius Series
Check Price & Details on Amazon
One of the most prestigious models out there, Vincent Bach's 42AF comes with some high-end features. The most notable one is the so-called "Infinity" axial flow valve. This particular design eliminates all of the contacts between metal surfaces, resulting in an extremely smooth performance. The model also comes with an 8-and-a-half-inch hand-hammered one-piece yellow brass bell, the Bach 42 one which has become really popular among classical players.
---
Yamaha
At this point, Yamaha is pretty well-known among musicians of pretty much all genres and it's not exactly a surprise to see them here. With their long tradition in almost all instrument types, the company also produces some pretty great brass instruments as well. In fact, they entered this market even in their earlier days, way before guitars, bass guitars, drums, and other instruments that they're best-known for were even on the drawing board.
Among plenty of different brass instruments and their series, the company has numerous lines of trombones, covering anything from the student level stuff and up to fully professional instruments. They also have their well-respected Xeno series, Custom Jazz series, as well as Custom Alto trombones. As you'd expect from a company like Yamaha, there's a lot of diversity and something to cover all price tiers and price levels. When it comes to Yamaha, things are always simple – whatever is the price range that you're aiming for, you can't ever go wrong with their products.
Website: Yamaha USA
Most Notable Yamaha Trombones
Yamaha YSL-448G
Check Price & Details on Amazon
If you're up for a trombone with a powerful projection of sound, then the YSL-448G is the one to look into. This particular model is marketed as an intermediate trombone. However, its qualities also make it a viable choice for professional musicians as well. The trombone also comes with Yamaha's own L48 mouthpiece, as well as an F-attachment.
Yamaha YSL-882O Xeno Series
Check Price & Details on Amazon
The Xeno series has some pretty interesting high-end trombones to offer. Some of the most important characteristics here include a heavier gauge brass as well as a one-piece and thicker brazed bell. Of course, the bell has been hand-hammered to perfection, ultimately bringing very strong projection and a powerful tone. When it comes to its overall performance, the YSL-882O model is well-known for being able to reproduce the sound at any level of dynamics.
---
Jupiter
Starting their business back in the 1980s, Jupiter makes plenty of different stuff, but they mostly do brass, woodwind, and percussion instruments. Goint through its history, we can see that it was started by a company called KHS Musical Instruments Co., Ltd which is based in Taiwan and which has been operating since 1930.
What's really interesting is that they only started its musical instrument business in the 1950s. Prior to this, KHS was known for its products focused on education. The very first musical instruments that they started making were harmonicas. About a year later, they ventured into the band instrument making business where they gained significant success. At the time early 1980s came, they were already an established manufacturer.
Their subsidiary Jupiter was started as a side-brand for wind and percussive instruments. At this point, they're one of the most widespread brands among brass players, most notably trombonists.
Website: JupiterMusic
Most Notable Jupiter Trombones
JTB720VR Trombone
Check Price & Details on Amazon
The JTB720VR trombone is a model made in the key of C. It comes with a lacquered body and an 8-inch brass bell, stainless steel pistons, as well as a .482-inch bore. When it comes to the main outer slide, this is a nickel silver one, providing a very smooth and controlled operation. It's one of the most reliable trombones that you can find, especially for this particular price level.
---
Eastman Shires
Initially starting its business as Eastman Strings, the company started its work in 1992. Its founder is Qian Ni, a flutist from Beijing who rose to fame after graduating from Boston University School of Music. The company makes woodwind and brass instruments, as well as specialized marching band stuff, such as mellophones and convertible tubas. As far as trombones go, these are used by anyone from students and up to full-blown professionals. The Shires brand, acquired by Eastman, builds some relatively lower-priced trombones as Eastman's subsidiary.
This subdivision was started back in 1995. The main idea was to create custom-made brass instruments with impeccable build quality, which is something that they most certainly achieved. In this day and age, they're pretty popular among students and intermediate players, although their stuff is so good that it could cover even some of the more professional settings.
Website: S.E.Shires
Most Notable Eastman Trombones
ETB634 Tenor Trombone
Check Price & Details on Amazon
The ETB634 tenor trombone comes in the key of Bb and features a large .547-inch bore. This is also accompanied by an amazing 8.5-inch bell which was hand-hammered. Looking further into it, the instrument also has an axial-flow valve and a chrome-plated nickel silver inner slide. What's more, the instrument comes with three interchangeable lead pipes for more sonic diversity, as well as a special Eastman Shires mouthpiece.
---
Conclusion
Although not as popular among beginners compared to some other instruments, trombones still have their much-appreciated place in the world of music. And this goes way beyond just the classical music as they've also found their place in other styles as well. Coming with its own qualities, it's a pretty unique one, mostly due to its sound and an ability to perform a true glissando, making it one of the rare musical instruments to be able to do so. In case you're looking for that perfect trombone, you can't ever go wrong with any of the brands that we listed above.