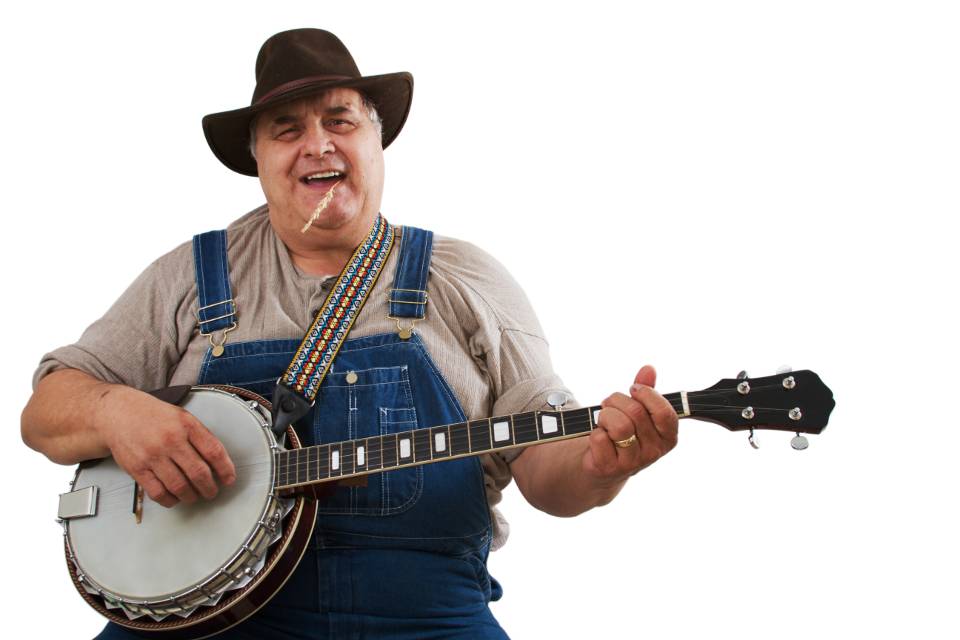 Deciding to go down the path of becoming a musician opens up new horizons in one's life. In most cases, people opt for one instrument, quite often the piano or keyboards, electric guitar, or drums. However, the real fun starts when you realize you can play more than just one instrument.
So if you're a beginner or an intermediate guitar player, why don't you try something like a banjo? After all, it's way more fun than the boring old ukulele. But all the jokes aside, we thought that it would be a great idea to do some research and see if we can find out what's the best beginner banjo out there.
Of course, singling out only one "best" banjo is not that easy. There are so many great banjos for beginners, so we compiled a list of those that we found to be the most interesting. There's something for everyone's tastes, as well as a few different price ranges.
But before we get into the list, we should do a brief guide that will help you know what to look for when buying a beginner banjo. If you're already familiar with the basic concepts of this instrument, then feel free to scroll down to the list. At the end of this brief article, you'll get all the info you need as a beginner and will hopefully be able to find the best banjo for your needs. So let's get into it.
Beginner Banjo Buying Guide
Just like guitars, the banjo is a string instrument. However, there are some distinctive features and particular issues that one should be informed about if they're just starting out. After all, the instrument has a very unique tone and its application is a bit narrowed down to some specific genres. These are some of the most important things you'll need to take into account.
Number of Strings
Just like guitars or bass guitars, banjos also have versions with different numbers of strings. So this is where we divide banjos into two main groups or categories – 4-string and 5-string versions. Aside from different ranges that they cover, there are some differences in their practical application.
4-String Banjo
First off, 4-string banjos are what you'd usually see in traditional or traditional-inspired musical styles. This is the case with genres like Dixieland jazz or different types of folk and traditional music. For instance, Irish folk music is where you'll see the 4-string banjo used a lot. What's also important to note is that there are plectrum and tenor banjos in this category. The plectrum one is more common. There are a few other versions, including cello and bass banjos, but these are somewhat rare.
5-String Banjo
And then we have the 5-string banjo. This is the most common type you'll find, and these are the models that we'll be discussing in the main part of this guide. You'll find it in all the different genres, from folk to jazz, even some experimental rock and metal music.
As far as tunings go, there are so many different approaches here. One of the common tunings you'll see is the open G, which is essentially a G major chord. It goes G-D-G-B-D. The fifth string, which is the thickest one, is always shorter, with the tuning peg located at the instrument's 5th fret.
There are also 6-string banjos that are becoming somewhat popular, and they feature the same tuning as the conventional guitar.
Open or Closed-back
Another thing to consider is the difference between the closed and open-back banjos. Closed-back banjos are also referred to as "resonator" banjos. These are pretty much similar in the overall design, but the difference is that the resonator (or closed-back) type has an additional wooden plate on the back.The main idea with such a design is to increase the instrument's volume.
Open back banjos are the "classic" ones. They have no cover on the backside, making their tone a bit mellower. With no backplate, they're noticeably lighter than the resonator types.
Resonator banjos often find use in bluegrass music, or any acoustic performance where banjos need to "compete" with the volume of other instruments.
With or Without a Pickup
Just like acoustic guitars and basses, banjos can come with or without internal pickups. Although somewhat similar to electric guitar pickups, these are specialized to pick up needed frequencies from banjo strings. You can either buy a banjo with a pickup, or buy it additionally and add it to the instrument with the help of a professional.
It's a good idea to have a banjo with a pickup these days, as it makes it a lot easier to perform with bands. Alternative is to buy a dynamic mic and a mic preamp if you need to perform live through a PA system.
What You Also Need to Consider
With all this said, you'll need to figure out what kind of music you're planning to do. If it's something experimental, like implementing banjos in classic rock or metal music, then you're free to choose between traditional folk or modern banjos. But if you're into a specific kind of music, then it's the best idea to choose an appropriate type of banjos.
For instance, if you're into Irish folk music, you can get a 4-string banjo. If you're playing bluegrass or jazz, then get a standard 5-string one. But in most of the modern music settings, you'll need a 5-string banjo, preferably a closed-back one.
---
Most Famous Banjo Brands
Just like with many other instruments, choosing the right brand is an important issue. Although banjo players might not be so defensive of their preferred brands compared to guitar players, it's still something that should be discussed. Here are some of the famous banjo manufacturers you should know of.
Deering Banjo Company
Founded back in the mid-1970s, Deering Banjo Company still remains as one of the leading brands on the market. This is not a surprise as they've built their reputation for making reliable and great-sounding instruments. To this day, all Deering banjos are hand-made in the US.
You'll find these banjos in the hands of professional musicians, including Winston Marshall of Mumford & Sons who even has his own signature model.
Website: DeeringBanjo
Gold Tone Music Group
Formed in 1993 under the name Gold Tone Banjo, the company now has many different banjo models for all price points and playing levels. They're also known for their other instruments, including guitars, bass guitars, ukuleles, and mandolins. They're known for their Gold Tone CC-50, which is quite popular among beginners and intermediate players.
Bela Fleck is one of the famous Gold Tone players and he has a few "hybrid" banjos made by this brand. These include different baritone banjos, banjitars, and cello banjos.
Website: GoldToneMusicGroup
Stelling
Stelling banjos go way back to the mid-20th century when Geoff Stelling started making his own instruments. The company officially opened up in 1974. Being an experienced player himself, it's only obvious that he's dedicated a lot of attention to making great instruments. Stelling also patented the special "pivot-pin" type of tailpiece, which is in use even to this day.
Website: StellingBanjo
Oscar Schmidt
Another brand that makes a variety of instruments, Oscar Schmidt are well-known for their guitars. However, banjos that they make deserve all the praise too. After all, they've been present on the market since the 1870s, making them one of the oldest instrument manufacturing companies at this point.
They have a decent collection of banjo models. The most famous one is OB5, which is quite a popular one among both beginner and somewhat experienced bluegrass musicians.
Website: OscarSchmidt
Recording King
Although not as old as Oscar Schmidt, Recording King is another American-based instrument-making company. Becoming famous in the 1930s and revived in the 2000s, they mostly focus on making acoustic guitars. However, banjos are an important part of their line of products as well.
And they have quite a lot of different banjo models to choose from. Aside from the standard 5-string modern ones, you can also find traditional 4-strings, and even banjos with pickups, which is pretty useful for live performances.
Website: RecordingKing
---
Top 6 Best Beginner Banjos Reviews
Now that we have some basics covered, we head on to the main part of the guide, which is the list of the best beginner banjos. But before we get into it, just bear in mind that this is our pick of what we considered to be a good choice for beginners. There are many other great brands and instruments to choose on the market. Nonetheless, if you're a complete beginner or just a musician who's new to banjos, you just can't go wrong with any of these instruments listed below.
It might not be the most budget-friendly option on the list, but Deering sure knows how to make great banjos. This is why we decided to include their Goodtime on the list. In case you're really serious about becoming good at it, we advise that you go with this particular model. After all, it will serve you well past your beginner stages of playing.
Goodtime has a low-profile maple neck with 22 frets in total, that's really easy to play. This is a resonator banjo, meaning that it has a closed back, resulting in a sharper and louder tone.
In addition, it's very aesthetically pleasing. Aside from the great body design, we also have hardwood bowtie-looking inlays, a trait that makes it easily recognizable and memorable.
We would also recommend this banjo for anyone who's just starting to play banjo but is already experienced with guitars or any other instrument.
Pros
Reliable
Well-built
Great tone
Closed back
Cons
Might be a bit too expensive for some beginners
---
Although Oscar Schmidt doesn't have as many banjo models compared to some other manufacturers, they still dedicated a lot of attention to making great instruments. Their OB5 has become pretty much a standard model, both for beginners and more experienced players.
It's noticeably cheaper compared to the aforementioned Deering Goodtime. Once again, we have a resonator banjo on our hands. Although it's somewhat subjective, we would argue that OB5 stands out with its design. What's more, the company did its best to round it up with beautiful-looking inlays.
The back is made from mahogany wood, which results in a specific type of tone, slightly reducing the attack yet still providing louder output. The neck here is made from nato wood, while the fingerboard is a standard rosewood one.
All in all, you'll get a great value for the money if you decide on getting Oscar Schmidt's OB5.
Pros
Great design and build quality
Resonator (mahogany wood closed-back)
Great value for the money
Cons
None for this particular price level
---
We've already explained the greatness of a company like Gold Tone Music Group that's well-known for their quality instruments. Of course, they take a lot of pride in their CC-50 banjo. And they definitely should, as this is one of the best banjos for beginners or intermediate players that you can find.
However, you need to bear in mind that this is an open-back banjo. This, of course, does not make it worse in any way, but it might be a very specific choice. Nonetheless, we decided to include it on the list since it's one of the best open-back beginner banjos that one can find on the market these days.
This old school-inspired instrument has a maple neck with a rosewood fingerboard and a maple-made rim. It's equipped with classic guitar-style tuning pegs, which makes it a little bit easier for beginners who are somewhat experienced with guitar.
Pros
An excellent choice for beginners
Good tone
Open-back banjo which is great for folk and old school music
Cons
Might not be versatile enough for more modern music
Open back means less output volume
---
While Washburn are mostly known as electric and acoustic guitar manufacturers, they have a few other interesting things to offer. Such is the case with their banjos, especially the B10 model. This is a classic 5-string instrument with the standard resonator body. We have the mahogany resonator on our hands, with the gloss finish. This adds to the overall output volume of the instrument.
As far as the neck goes, it's also made of mahogany and features a rosewood fingerboard with 22 frets. The design of the neck is rounded up with stylish pearl inlays. We also have die-cast tuners, which ensure reliable operation and stable tuning.
Overall, B10 is designed as a bluegrass banjo. However, we would argue that it's capable of any particular setting, depending on your needs.
Pros
Mahogany resonator with a glossy finish
Die-cast tuners
Reliable
Cons
Nothing in its price range
---
Best Beginner Banjo With a Pickup: Dean Backwoods 2
Another famous guitar brand on the list, Dean are one of the most popular brands among players of many different genres. So with this in mind, it's only obvious that the company is capable of making great banjos as well. That's why we included their Backwoods 2 here.
However, what makes it different is the fact that it features a pickup. It's a DMT Design Humbucker, and you can just plug it into your rig or directly into any standard PA system.
It's just a slightly larger instrument with a scale length of 26.5 inches. But what also makes it stand out is its unique design. While we're mostly used to seeing white banjos, this one's dark, making it look really unique.
This is a mahogany-body resonator banjo with a bolt-on mahogany neck. There's a total of 21 frets on its black walnut fingerboard. To put it simply, this is one of the best choices for beginners who are looking to have an electric banjo.
Pros
Unique design
Features a DMT Design Humbucker
Includes an armrest
Great tone
Cons
It could use 22 instead of just 21 frets
---
When trying to make the best beginner banjo list, we should always find a way to add at least one budget option. This is why we included ADM's 5-string banjo. Yes, it's somewhat of a "generic" brand, but it still provides surprisingly great tone and reliability for its price point. And it's obviously a great solution for absolute beginners, even those who are just starting out on banjo as their first instrument.
It's nothing really impressive, but it still has some nice features like an adjustable tailpiece, as well as a chrome-plated armrest. The body is maple, while the resonator back is a mahogany one. Overall this ADM banjo will provide you with enough of a good tone and reliable operation. It's specially designed for beginners, but it's also a good options for those who seek to buy a budget banjo.
Pros
Affordable
Great value for the money.
Cons
Might not be a good option for those who need a reliable instrument in the long run
---
Conclusion
Before getting into the purchase, one should always think about doing enough research and figuring out what kind of instrument will suit their needs. This especially goes for any beginner out there. Even if you're an experienced guitar player, you should always find ways to educate yourself on the matter if you're planning to buy and start learning how to play a banjo.
Hopefully, this brief guide cleared things up to you and helped you find the best banjo for your needs. Now all you need to do is practice and get those banjo chops ready.