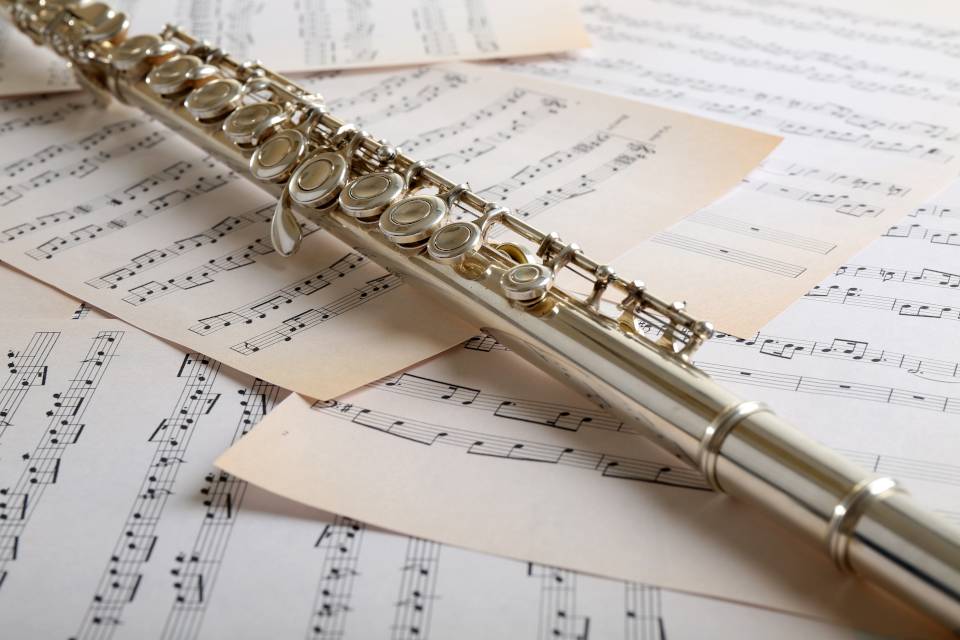 It would be absurd to mention the top woodwind instruments without touching on the flute. Since time immemorial, the flute has proven its worth when it comes to music and entertainment. The King of Prussia himself, Fredrick the great, was enthralled by this small musical instrument so much that he composed music for it. This alone makes the flute such a prestigious instrument to possess and that is why you need to always strive to find the right one.
Aside from the material and durability, the brand comes in as a vital consideration when choosing a flute. The brand of a flute in a way integrates everything that makes a good flute. So today we are going to look at the top 5 best flute brands in the market.
Yamaha
Yamaha is a giant when it comes to music instrument production. It currently ranks as the largest music instrument manufacturer in the whole world. You can name them all, from pianos to flutes, they've got them and so it's no surprise it makes the list of the best flute brands.
Yamaha first started as a reed organ and piano manufacturer way back in 1887 and since then they have made more than just music instruments. They manufacture home appliances, semiconductors and sporting goods among others. The founder was known as Torakusu Yamaha. In 1960, the Yamaha Corporation of America was established to further promote Yamaha products in the USA.
So why are Yamaha flute brands ranked so highly? Well, one of the answers lies in what has already been mentioned. The brand has been manufacturing music instruments like the flute for years. This culminates into a considerable amount of experience in the field. And we all know with experience comes quality as well as a great image. To uphold the reputation garnered for all those years, Yamaha ensures that it gives you value for money you spend on their flutes. Therefore, with this brand you get a quality and affordable flute.
Website: Yamaha USA
Suggested Yamaha Flute Model
Yamaha YFL-222 Flute – This is a well-known Yamaha flute among beginners and students and is rated among the best flute brand model in this category. It produces a great sound and is custom made for ease of use by learners.
Apart from sound, this flute has a dazzling design. It has some pointed arms on the non-fingered keys which act to make the keys stronger as well as alluring. The flute features closed hole keys, offset G and footjoint marking which enables proper fitting for those young flute players.
In addition to its long list of features, the flute is built using nickel silver which makes it quite durable and also less vulnerable to breakage.
---
Pearl
Pearl started producing flutes in 1968 following the rise in demand for flutes. Before this, Pearl musical instruments was mostly known as a maker of music stands and accessories.
Their first flute factory was situated in Chiba, Japan and they specialized in making hand crafted flutes. Since then, Pearl has grown and now ranks among the best flute brands in the world. They deliver their flutes all around the world and have branches in the US located in Nashville, Tennessee and also in Europe located in Venlo, Netherlands.
We have seen innovation and creativity over the years when it comes to the making of flutes and right now almost every brand out there prides themselves as being innovators. This is however different for Pearl, they don't just pride themselves as innovators but have proof to back this up. Many of the craftsmen, who work with Pearl, have spent their entire career making flutes. They then pass down this exceptional skill to their apprentices.
Pearl also carries a lot of research to improve their headjoints and key design. Through their research, they managed to come up with the pinless mechanism, which they patented. When you purchase a Pearl flute, you get a high quality flute from a brand with more than 50 years of experience. The pitch is accurate, the articulation flexible and the sound immense.
Other than quality, Pearl brands are easy for beginners to play and of course feature the Split E mechanism which you are unlikely to find on the Yamaha brand.
Website: PearlFlute
Suggested Pearl Brand Model
Pearl 525RB1RB Quantz Series Flute – For the Pearl brand, we will have to go with the model from the Quantz series. The Pearl Quantz series produce some of the best quality student flutes. The reliability and ease of play makes this flute a great pick for any student out there.
The Pearl 525 features an open hole design key, a silver body and a sterling silver lip plate design. All these make for a rich and incredible sound.
---
Miyazawa
Miyazawa is a company situated in Japan and prominent for its handmade flute brands. The company was founded in 1969 by Misashi Miyazawa.
There are many things that make the Miyazawa stand out from most flute brands but the most common one is the commitment to bring musicians a flute of their choice. With the Miyazawa brand, you get a flute that has been developed to suit your style of play as well as desire. According to Misashi Miyazawa, their flutes have undergone a series of tests and advancements and all these have been combined to give you a very high quality flute. The brand takes into attention the smallest of details while hand crafting your flute so as to give it a remarkable tune.
Moreover, Miyazawa gives you a wide selection of metals and headjoint styles to choose from to ensure you get the sound you want. Alternatively, they have several optional enhancements available for you if you need the flute customized.
A distinctive feature you will find in Miyazawa branded flutes is the Brogger system. This system was introduced by a flute maker by the name Johan Brugger and uses a pinless mechanism which allows the flutist to do precise adjustments and also brings spring tension balance for each key. This reduces hand exhaustion and makes playing easier.
Website: Miyazawa
Suggested Miyazawa Brand Model
Miyazawa 602 flute – The Miyazawa 602 packs a lot of features. It comes with a Brittania silver hand-cut headjoint and body, a full Brogger mechanism and a silver-plated mechanism. It is an open hole model with pointed key arms and straubinger pads. Miyazawa flutes are known to offer 2 contemporary headjoints (MX-1 and MX-2) and 3 traditional headjoints (MZ-9, MZ-10 and MZ-11). Each of these will produce a different sound due to the different customization and so you should put that into consideration when picking your Miyazawa 602.
---
Gemeinhardt
While Yamaha ranks as the largest music instrument manufacturer in the world, the Gemeinhardt brand narrows itself down to flutes and piccolos and tops the list of the largest manufacturer of flutes in the world. This is already an advantage in itself.
To understand the origins of the Gemeinhardt brand, we would have to go years back to a man by the name Kurt Gemeinhardt. He is the creator of this spectacular flute brand, having served as an apprentice to his father. He was born in Germany and gained a lot of fame and recognition for his amazing ability to make such flutes. In 1928, he moved to Indiana and made a number of flutes for people in America. This led him to open his own company by the name Gemeinhardt and every instrument made from that day has been branded with his name.
Right now, Gemeinhardt manufactures a variety of flutes types: Student, Alto, Bass and Professional.
So why would you go for the Gemeinhardt brand? First of all, the quality is amazing. Gemeinhardt make some incredible student and professional flutes with quite a nice tone. The adjustment on this brand is also well positioned and they are physically less strenuous to play. Secondly, the brand has a very durable silver plating, giving you a long lasting flute. Lastly, since the company is situated in US, you will get accessories at a much cheaper price compared to other overseas brands. That is of course if you live in the US.
Website: Gemeinhardt
Suggested Gemeinhardt Brand Model
Gemeinhardt 2SP flute – This flute comes with an exemplary triple plated silver design and a great head joint. The design brings balance while playing and helps produce a dark and beautiful tone. The flute features a closed key design instead of an open key design and has the offset G key. The offset G key is a plus for beginners as it makes playing the flute easier.
---
Altus
Altus was created by an amazing flute maker from Japan by the name Shuichi Tanaka. Tanaka was fascinated by the flute's headjoint. He developed an interest in the qualities of sound and other technical capabilities of a flute. He wanted to know what really affects the sound of a flute. Tanaka made his first flute in 1981. This was influenced by William Bennett with whom they shared their admiration and love for the flute. The two later developed the Altus-Bennett scale and it is from this scale that all Altus branded flutes are built upon.
Altus, according to Tanaka, is a flute brand developed for those flutists who have a high degree of musical expression. Tanaka put a lot of emphasis on personality and how he wants the flutes he makes to show one's personality. This is the very basis of the Altus brand.
Altus flutes are also known to come with a number of materials and tubing for one to choose from. It is actually considered the flute brand with the most distinctive variation of materials and tubing. Altus flutes are user friendly, superbly built and flexible when it comes to sound. The Bennett scale and incredible craftsmanship makes this brand worthwhile.
Website: AltusFlutes
Suggested Altus Brand Model
Azumi AZ 3000RBS flute – If you are a serious beginner or student, then you might consider getting this flute. This flute is designed by Shuichi Tanaka himself. With it, you get to experience the skill, craftsmanship and quality that go into making an Altus flute. The flute features a Britannia silver body, an offset G key system and a B foot. Not to mention it is an open hole flute and comes with the Altus handmade Z-cut head.
---
Conclusion
There are a plethora of flute brands out there and if you're not careful you might end up selecting a weak or faulty flute that breaks just days after purchase. The following brands are some of the best flute brands in the market. Not only are they durable but also offer an exquisite tone you won't find on cheap unknown brands. Always go for quality over price. As a flutist, you are always better of saving for a good flute than buying a cheap one that won't last.
The Difference Sound Between a Cheap and Expensive Flute Video: