Japanese traditional music was used to reduce boredom, as a form of self-expression and encouragement to work among others. The instruments used revolutionized the Japanese culture and are still being used today not only in Japan but around the globe. Today we are going to look at some of the most prominent traditional Japanese string instruments.
Koto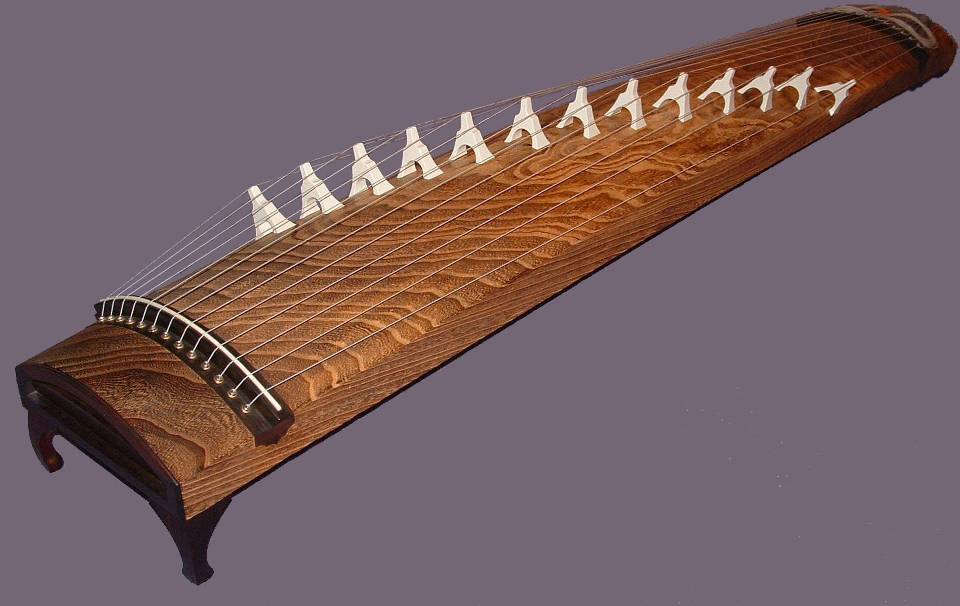 Descended from the Chinese zither Guzheng, Koto is a stringed instrument commonly found in Japan. It has a striking resemblance to not only the Guzheng, but also the dan tranh from Vietnam, gayageum from Korea and the yatga from Mongolia. Koto is easy to spot due to its elongated body averaging 71 inches in length with a width of about 7.9 inches. It is made up of paulownia wood comprised of 13 strings and 13 bridges. In the past, the bridges used to be made from ivory but currently plastic and wood are being used. The Koto strings are made out of plastic or silk and are usually of similar size and tension.
Koto has gone through a number of changes since its introduction to the Japanese. One of the greatest influencers to the innovation and development of this instrument is Yatsuhashi Kengyo. This talented musician from Kyoto came up with Kumi ata, a new form of Koto music. Another prominent influencer is Keiko Nosaka who increased the number of Koto strings to 20 and more therefore creating newer versions of the instrument for people who feel restricted by the 13 stringed ones.
Gottan
Gottan, also called hako or ita, is a stringed instrument that has been in the Japanese culture since time immemorial. If you have ever heard of Kadozuke, then you may have heard of this instrument. Kodozuke is a door to door kind of entertainment which is done for food or money by strolling musicians. Gottan was used for such purposes alongside the shamisen.
This instrument is quite simple both in its music and design. Its body is made entirely of solid wood from top to bottom and is equipped with 3 strings and 3 tuning pegs. This makes it different from its relative the sanshin whose body is normally covered with snake skin. The sound produced by Gottan can be described as warm, gentle, light and cheerful.
Biwa
Biwa is a Japanese plucked string instrument identifiable through its short neck and a body shape similar to a pear. It was mostly used to tell narratives. This instrument is made up of 4 or 5 silk strings of varying thickness. This technique is usually used so as to create different tones and sounds for each one of them. The Biwa is played using a big plectrum (Bachi) shaped like a wedge. It can be used in ensembles or in a solo performance.
The Japanese were first introduced to this instrument during the 7th century and its origin can be traced to the pipa, a Chinese musical instrument. Over the years, a number of versions of this instrument have been created. All of which were made for different purposes. They were distinguished by several features such as number of strings, frets, plectrum and the sound. The most noteworthy types include: Gagaku-biwa, Gogen-biwa, Moso-biwa, Heike-biwa, Satsuma-biwa, Chikuzen-biwa and Nishiki-biwa.
Shamisen
Shamisen, also known as samisen or sangen, is a Japanese plucked instrument with a long neck and no frets. It traces its origin to the sanxian from China which entered Japan through the Okinawa islands. From the sanxian, came the sanshin and this then led to the creation of the shamisen. This Japanese instrument is made up of 3 silk strings, 3 tuning pegs and a wooden body. Its design is similar to that of a guitar or a banjo. However, it has a fretless and thinner neck.
A bachi is normally used to pluck the shamisen strings which helps generate that cultural Japanese tune. This instrument can be played solo as well as in ensembles. Tuning for the shamisen is done according to genre. Some of the common tunings used are Honchoshi/ base tuning, Ni Agari/raised second and San Sagari/lowered three.
Tonkori
Tonkori is a traditional Japanese string instrument from the Ainu tribe who are known to be the original northern Japan inhabitants. It is normally composed of 5 strings and 2 bridges one at the top and another at the bottom but doesn't have any frets. The instrument's body is made of wood from a dark-bark spruce. It is approximately 47 inches in length, 4 inches in width and 2 inches in thickness.
According to Japanese tradition, the shape of the Tonkori is said to mimic a woman's body. The Tonkori was virtually extinct during the 1970's but has experienced a resurgence over the past years. Among the people leading this revival is Oki Kano, who is a well-known modern performer of this instrument.
Kokyu
Kokyu distinguishes itself from all the other Japanese string instrument by being the only one which is played using a bow. Its construction resembles the shamisen but smaller with a length of 28 inches. The instrument also has another version from Okinawa known in their language as Kucho.
Kokyu is made up of a neck formed using ebony and a rounded rectangular body formed using either coconut or styrax japonica wood. The body is usually covered using cat skin on both ends however the Okinawa version uses snake skin. The instrument has 3 tuning pegs and 3 strings although in some cases you may get one with 4 strings. In China, the kokyu can be compared to popular lutes like the leiqin and zhuihu.
Sanshin

The sanshin is a traditional Okinawan instrument related to the sanxian from China. It is comprised of a body, a neck, tuning pegs and strings. The name sanshin actually stands for 3 strings and that is exactly the total number of strings found on the instrument. The strings are normally made from two materials, either nylon or silk. The neck of the sanshin is made using black ebony core better known for its strength and the impeccable Japanese cultural sound it is able to produce. It is however not just limited to this type of wood. Other types of wood used include: Oak, Rosewood and Apitong.
The tuning pegs of the sanshin are 3 in total and are made using the same wood used for the neck although ebony is frequently used in some. The body of a sanshin is usually covered with snake skin but this has begun to change with the introduction of artificial sanshin skin. Currently, a vast number of other materials can be used to make the skins for example Polyester. This helps solve the problems encountered by people abroad such as cracks on the skin due to the sensitivity of the instrument.
Conclusion
Although ancient, these Japanese instruments have managed to stay relevant and useful to this day. Some like the Tonkori nearly went extinct and forgotten but it was revived and continues to increase in popularity. This just shows how much culture and traditions are valued. It also gives you an opportunity to experience the traditions of the Japanese people from centuries ago.
Listen to Shamisen music in Tokyo